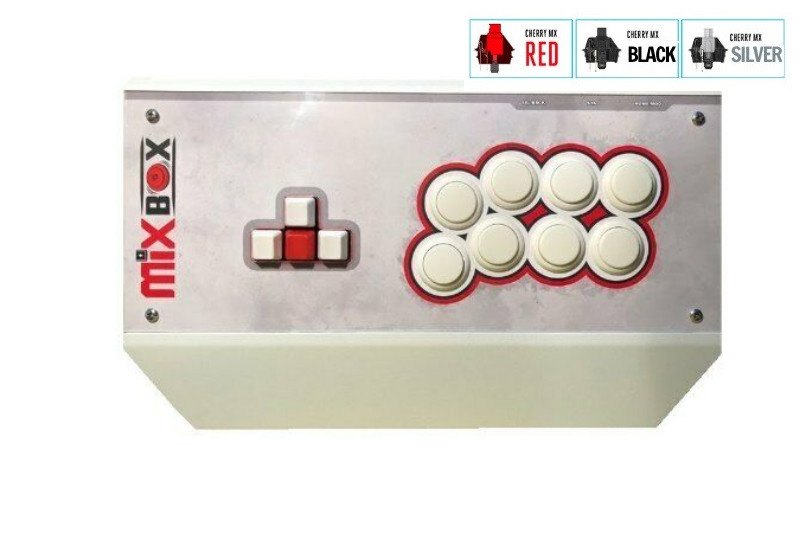 Mixbox MAX Edition Arcade PS4 Controller (White)
Model: 16
All countries
Product Description
Purchase now and get in there quick
Mixbox Controller w/ Cherry MX Mechanical Key Switches and Sanwa Buttons – Advanced PC and PlayStation Fight Gaming (Stickless)
Are you a serious gamer looking for a keyboard controller that will push your skills to their very limits? Want to ensure every button press is perfect, every key is responsive, and every move you make is on point? Then you need the only and only stickless Mixbox Controller.
The ideal arcade gaming controller for duking it out in Tekken, Dragon Ball Z, or Street Fighter, the Mixbox is the only control you need to be at the top of your game; especially when you need more out of every click, movement, attack, defense, and keyboard press.
Built into a lightweight, metal frame, the revolutionary Mixbox Controller helps you play fast and smooth for high-end, fast-response gaming.
· Tournament-Ready Gaming
Intuitively designed for modern gamers, the Mixbox features Cherry MX Red Mechanical Key Switches that ensure every button press is clean, precise, and responds instantly.
· Swappble Cherry MX Black and Silver Switches Kit

Mixbox MAX lets you swap and replace the pre-loaded Cherry MX RED switches with Cherry MX BLACK Switches and Cherry MX Silver Switches. Customise your Mixbox Max and play your way.
· Advanced Keymapping
The Mixbox Controller is designed to enhance your play speed and fast-twitch responsiveness with 8-function Sanwa Denshi Buttons that help map every movement.
· Ergonomic Craftsmanship
The large surface gives you plenty of room to access the WASD movement keys as well as the mappable action buttons, while the slanted front panel properly supports wrists.
· Multipurpose Game Compatibility
A smarter, more innovative gaming keyboard controller, the Mixbox is designed for fighting games on Windows and Linux gaming PCs, as well as PlayStation consoles (PS3, PS4, PS4 Pro), to give you the best fighting game support possible.
· Dual Settings SOCD Switch
Primary Setting (O) / SOCD Cleaner
When you press left, and then press right, the forward input will become neutral;
When you press down and press up, the forward input will become up
Secondary Setting (-)
When you press left and then press right, the forward input it will become right. When you press down and press up, forward will become up.
Exclusive Features:
·

Cherry MX RED Key Switches Pre-loaded (4 WASD)

Swappable Cherry MX BLACK and SILVER Switches Kit



·

Japanese Sanwa Denshi Buttons (8-Function)

·

TURBO Button Along with SHARE, PS, OPTIONS, L3, R3, Touch

·

EVO / Tournament Edition

·

Metallic Fight Stick Case

·

Designed for Advanced PC Gaming

·

Also Supports PS4 Pro, PS4, PS3

·

Enchanced 3 Metres Wired Controller with Cable Comparment

·

Net Weight: 5.5 lbs (2.5 Kg)

·

Dimension: 14.9 inches x 9.0 inches x 2.4 inches

(38 cm x 23 cm x 6.2cm)
·